The National League for Nursing Pre-Admission Examination (NLN PAX) is required for many students looking to enter a registered nursing program. Nursing students who wish to enroll in these nursing programs must take the 2-hour entrance exam known as the PAX-RN.
One of the best ways to prepare for this exam is by using a NLN practice test. Using a practice test will help you become more familiar with the layout of the actual exam.
Utilize our NLN PAX practice test below to begin your preparation for this exam.
NLN Practice Test (PAX)
There are three main sections in the PAX test – Verbal Ability, Mathematics, and Science, with one hour allotted for each part.
To ensure you score high on your PAX exam on the first try, take advantage of free NLN practice tests:
NLN PAX Science Practice Test
NLN PAX Math Practice Test
NLN PAX Verbal Ability Practice Test
Unlock Our NLN PAX Prep Course. Pass Guarantee.
Prep with peace of mind with our 100% pass guarantee.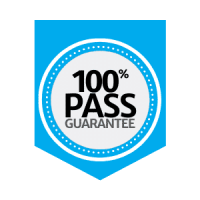 What Can I Expect on the PAX Exam?
All three tests on the NLN PAX exam are multiple choice, but not every question is scored. You will be given one hour to complete each section. The sections you will encounter are as follows:
Verbal Ability
The verbal ability section includes both vocabulary and reading comprehension. This portion of the PAX determines your ability to read and infer ideas, and your ability to retain information.
Mathematics
The math section is made up of of everyday calculations, unit conversions, word problems, algebra, geometry, graphs, and applied mathematics.
Applied mathematics tests your ability to solve real-world problems, such as scheduling, costs, and clinical plans, using math concepts. No calculators are allowed in the math section.
Science
The science portion of the exam contains questions on basic biology, chemistry, physics and earth science. There is also a section on first aid and general health knowledge.
If you are worried about passing some or all of these section, you can try a NLN PAX practice test free here.
How Many Questions are on the PAX Exam?
The NLN PAX Exam consists of 80 verbal ability questions (60 scored), 54 mathematics questions (40 scored), and 80 science questions (60 scored) in three separate sections.
Candidates have 60 minutes to complete each individual section, for a total test time of three hours.
| Section | Number of Questions | Time Allotted |
| --- | --- | --- |
| Verbal Skills | 80 | 1 Hour |
| Math | 54 | 1 Hour |
| Science | 80 | 1 Hour |
How Is the PAX Exam Administered?
In most cases, you will likely take the NLN PAX exam online, but there are instances where you can take the test in person.
If you are taking the exam in person, you should plan to arrive at least 30 minutes early at the testing center to check in, and remember to take a valid government-issued photo ID. You are not allowed to bring a calculator or any personal items into the testing center.
Students take the exam online will need to make an account with Examity before you can register. There are certain system requirements you will need in order to be permitted to take the exam online:
You must have Windows Vista or higher installed. Examity does not support Linux or Chrome OS. The NLN does not recommend the use of Apple Macs as several users have reported technical issues.
Either a laptop or desktop computer may be used. Tablets, Chromebooks and cell phones do not meet Examity requirements.
You must have either a built-in or external webcam, and a working microphone.
Your internet speed must be at least 2 Mbps download and 2 Mbps upload. Hot spots are discouraged.
You must disable your browser's pop-up blocker.
How to Set Up Your System for the NLN Exam
Install Questionmark Secure (on Windows)
Click the installer twice
Click "Next"
Accept the license agreement and click "Next"
Change the destination folder in which you'd like to install Questionmark Secure or use the default location
Select "Only for me"
Click "Next"
Click "Install"
Once installation is complete, click "Finish"
In order to ensure the test is taken fairly, there are several rules and requirements you must follow while taking the exam. For example, the standard rules when taking the test at home include:
You must be alone in the room
Your desk and work area must be clear
Your computer must be connected to a power source
No phones or headphones allowed
No dual monitors
No leaving your seat
No talking
Your webcam, speakers, and microphone must remain on
The proctor must be able to see you
The official NLN pdf document outlines more in-depth instructions on how to take the exam online, including:
System requirements
Account setup and password management
Purchasing the exam
Scheduling the exam
ID requirements
Workspace requirements
It's vital to review these instructions before taking the test, as not following these steps can result in disqualification.
Unacceptable Behaviors When Taking the NLN Exam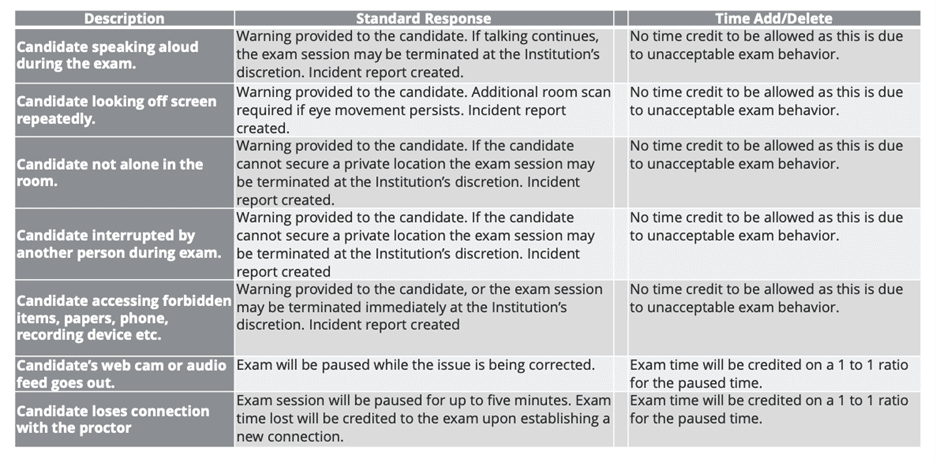 Source: NLN Testing Services
How To Register for the PAX Exam
The PAX exam is offered several times every month, so when you register you will be able to choose from a range of dates. Additionally, many locations will also offer a range of start times on each date allowing you to choose a time during the day that will work best for you.
How Long Is the PAX Exam?
You will be given approximately 2 hours to take this exam. The exam is broken up into 45 minutes for the verbal ability section, 35 minutes for math, and 45 minutes for science.
Where Do I Take the NLN PAX Exam?
You can test either on-site, or take an online proctored exam, but online tests are most common. If applicable, your school of choice will tell you if you can take the exam in person when you are registering. To take the exam remote, visit the NLN dashboard portal to begin making an account here.
How Much Does the PAX Exam Cost?
The cost to take the PAX test is typically $60.00 to $100.00. The NLN does not give refunds, so it is important to take the exam seriously each time you take it.
When Do I Apply for the NLN PAX Exam?
When applying to the school of your choice, all application materials, including your results, must be submitted by the deadline for the quarter in which you are applying.
Scores that are received after these dates will not be considered until the next application period.
| Semester | Application Period |
| --- | --- |
| Fall | January 15 to April 3 |
| Winter | August 15 to October 5 |
| Spring | November 15 to January 10 |
How Is the PAX Exam Scored?
You will earn a cumulative score ranging from 1 to 199. Generally, you should aim to score at least above the 50th percentile, which equals a score of 103 or better.
How Do I Know My Score?
The results of your NLN PAX exam are mailed directly from the NLN to both the student and their perspective college within 10 days of taking the exam.
If you fail, you are required to wait a minimum of 6 months before you can opt to re-test. Additionally, if you fail on your first try, you will only have two more chances to try and pass.
What Does My PAX Score Mean?
A passing score for the PAX exam is considered by most schools to be at least 100, but it is important to note that different programs will have different requirements for entry. Be sure to check with the program you're applying for.
To land in the 99th percentile, you must earn a score between 199 and 145.
NLN Exam FAQs
How do I study for the NLN?
Doing adequate test prep with an NLN PAX practice test is vital for success on the NLN exam. You can use our NLN PAX prep course to help prepare.
What kind of questions are on the NLN exam?
There are three types of questions on the exam: Reading comprehension, math, and science, all of which are multiple-choice.
What is the passing score for NLN?
A passing score can range depending on your institution, but it is generally considered to be a score of 100, or the 50th percentile.
Can you use calculator on NLN exam?
No calculators are allowed during the exam.