Learn everything you need to know about TEAS scores with our guide.
Getting high TEAS scores is essential for students who are looking to apply to a nursing school. This is one of two entrance exams that are designed to ensure students are capable of meeting the high demand of a school's curriculum.
The TEAS exam is comprised of four sections that are all designed to test specific areas ranging from mathematics to reading comprehension. The key to high TEAS scores is to identify the area where you're weakest, develop a study curriculum, and then prepare for the test.
TEAS Scores
The TEAS exam uses a process called equating when it comes to scoring the exam. This means that certain test questions are given more "weight" than others. Test-takers will not know which questions have more weight.
There are 170 total questions on the TEAS exam.
Students will be given a composite score when they receive their score reports. All schools have different requirements for the actual score they require but it usually hovers around 65%.
However, a school's bare minimum doesn't guarantee admittance so your goal should be to score as high as possible.
Students who take their TEAS exam electronically will be able to see their score reports immediately. Students who take the paper version of the TEAS exam will have to wait for their scores to be sent to ATI for grading.
Unlock Our TEAS Prep Course. Pass Guarantee.
Prep with peace of mind with our 100% pass guarantee.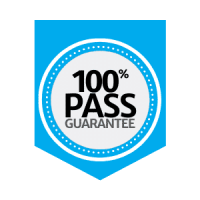 TEAS Score Report
Students will receive a score report when they get their results. The report can be a little overwhelming so we will help break it down for you.
Students will see three things on their score report:
Total Score – A students overall score on the exam.
Content Area Scores – A students score on the various section of the exam.
Sub-Content Area Scores – A students scores on the sub-content areas.
Students will see their total score and there will be a "Academic Preparedness Level" assignment under the score. You can see a breakdown of those levels below.
| | |
| --- | --- |
| Academic Preparedness Level | Score Range |
| Developmental | 0.0% to 40.7% |
| Basic | 41.3% to 58.0% |
| Proficient | 58.7% to 77.3% |
| Advanced | 78.0% to 90.0% |
| Exemplary | 90.7% to 100.0% |
Example TEAS Score Report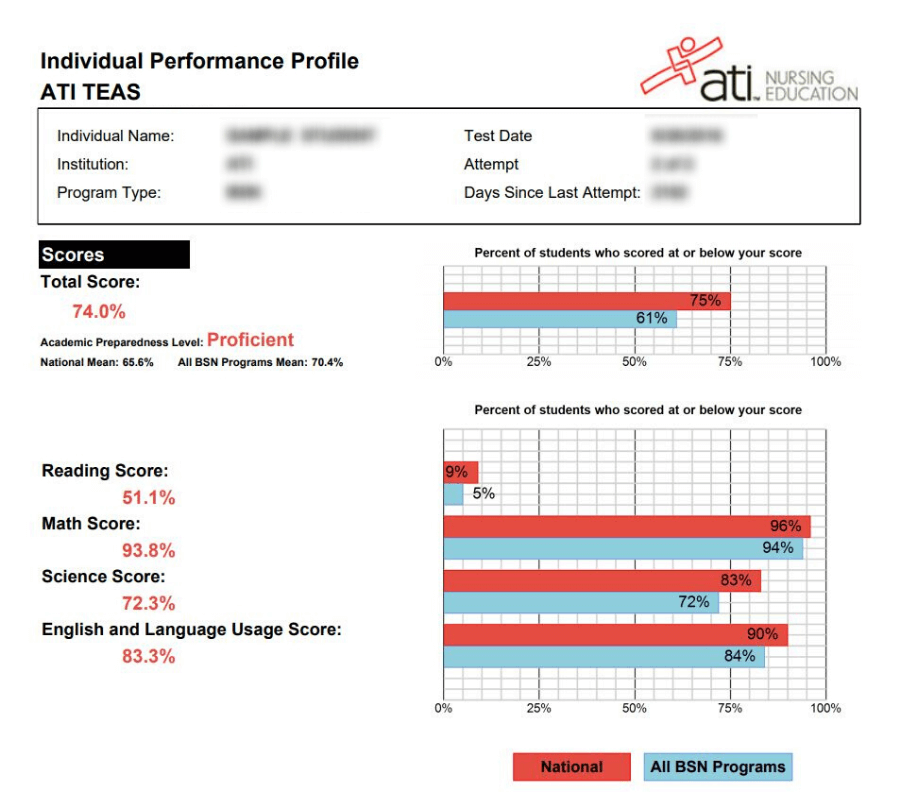 How To Get Higher TEAS Scores
Now that we've looked closely at the format of TEAS test scores, we can dive even deeper into acing this important test. As with all exams, preparation is the key to acing an exam so you have to make sure you take the right steps.
Lay Out a Study Plan
Start by answering some basic questions. You'll want at least six full weeks to study for the TEAS test. Here are the basics that you'll need to do before setting up a study plan.
Take a TEAS practice test first so that you can determine what areas you are weakest in.
Determine the hours that you will be unavailable for study. For example, you won't be able to study during your work or school schedule.
Figure out what resources you will use to study.
A TEAS practice test will show you where to devote most of your studies. For instance, if you score lowest on the math section, then you know that you will need to dedicate more hours toward studying math.
You have two choices when it comes to study resources. You can either find all of the information yourself or invest in a TEAS prep course.
Whatever the case, creating a study plan removes a lot of stress from this time and will keep you on track.
Never Cram Studies
As mentioned in the previous section, students should give themselves at least six weeks of preparation in order to get the highest TEAS scores. Cramming studies into a short window is going to present a lot of stress to test takers and will ultimately lead to lower scores.
Make sure your study windows are no longer than two hours and that you give yourself breaks of at least two hours between these windows. Do not wait until the last week to start studying.
Furthermore, stick to your study schedule. One of the major benefits of having a study plan is that it prevents procrastination so be sure you stick to your plan. If you procrastinate, you'll end up having to cram all of your studies into the final days and the result will be a lower score.
Yes, students cram and pass exams all of the time. However, they never score their full potential. Your goal when taking the TEAS test isn't simply to pass; it's to score as high as possible.
Invest in a TEAS Prep Course
Investing in a TEAS prep course will make studies more efficient so students are highly advised to take this step. Our TEAS prep course is affordable ($49) and comes with everything you need.
While self-studying is possible, it's inefficient and you'll spend way more time studying the wrong content.
Our TEAS prep course comes with full-length practice exams, targeted study materials based on the actual test, and a ton of other resources. In short, you can completely skip the research phase of creating your study plan and get right to the studies.
Here are some of the benefits of using a TEAS prep course:
Practice tests ensure that you are focusing your studies on the right topics, therefore improving your scores in those weaker areas.
Study resources that are directly targeted to the TEAS test.
All practice tests come with detailed answers and explanations so you will know why you answered incorrectly.
Resources on the go so you can study while waiting on appointments or on the commute to work/school.
Make Sure to Answer Every Question
The TEAS test doesn't penalize students for answering incorrectly so you should make sure you provide an answer to every question. If you are running out of time and are stuck on certain questions, then guess. It's better to guess than to leave the answer blank.
That's one of the reasons why skipping difficult questions is advised right away. If you get stuck on a question, move on and come back to it at the end. That way, you are definitely scoring on the questions you know.
TEAS Exam Format
The four sections that make up the TEAS exam are as follows:
Reading
Mathematics
Science
English and Language
A composite score is calculated as a combination of a student's performance in all four areas so it's important that you are strong in all subjects.
TEAS Reading
This section contains 45 questions with 55 minutes to complete it. Students can expect a passage of text followed by questions related to that passage.
In addition to reading large chunks of text, students are scored on their interpretation of charts, maps, and other text-based tools. Here are some more details about what students should expect:
Key ideas and details
Craft and structure
Integration of knowledge and ideas
TEAS Math
With 38 questions gauged over a 57-minute time period, this section carries a lot of weight per question.
This makes it important to get every question right. Here are some of the areas students are tested in:
Number and algebra
Measurement and data
TEAS Science
TEAS scores on the science section are based on a total of 50 questions. Students have 63 minutes to complete this section.
Recent variations of this exam have greatly expanded the science section to test more vital information. Most students consider this to be the most difficult section. Here are a few of the topics you can expect this section to cover:
Human anatomy and physiology
Biology
Chemistry
Scientific reasoning
TEAS English and Language Section
Like the math section, this section carries a lot of weight per question on TEAS test scores. There are a total of 37 questions.
With only a 37-minute time limit, this section is quite challenging. Here are the areas that this section covers:
Conventions of standard English
Knowledge of language
Using Language and Vocabulary to Express Ideas in Writing
TEAS Scores FAQs
How does TEAS scoring work?
The TEAS test scoring is based on a versatile system that gives varying weights to certain test questions. It's impossible to know how the questions are weighed so it's essential to make sure you are prepared for the whole test.
It's also worth noting that incorrect answers do not negatively impact the score. The overall grade is determined by the number of questions that are answered correctly. Therefore, there's no reason why you shouldn't answer all questions.
Students receive a report that will show the grades received per section so you'll know where you should devote additional studies.
How and when can a student take the TEAS test?
This depends on the school giving the test but the general rule of thumb is that the TEAS can be taken no more than three times per year. Furthermore, students will have to pay a registration fee each time they take the exam.
How can I get a top TEAS score?
Students who put in the time and effort will get the best TEAS scores. One way to ensure you pass and get a top TEAS score is by using our TEAS prep course. Our prep course includes 1000+ practice questions, in-depth study guides, and full-length practice tests.