Learn how to become an EMT with our in-depth guide below.
Most people are very aware that going to college or entering the workforce are viable options when they graduate, something that may not be at the top of someone's mind is training to join first responders.
One of the first responder jobs that is expected to continue growing until 2028 is the position of Emergency Medical Technician (EMT). However, it isn't the most talked-about career path in schools.
So, how does one become an EMT? While requirements can vary state-to-state, we have gathered some basic steps you will need to take if you want to be an EMT as your full-time job.
What Does an EMT Do?
Before deciding if you want to become an EMT, it is important to know a brief overview of what an EMT does. EMTs are usually the first person or people on the scene of an emergency. It is important for them to not only be able to assess the scene quickly but also act properly with a sense of urgency. Their responsibilities include:
Stabilizing patients for transfer to a hospital
Properly assessing and treating minor emergencies (such as administering CPR or stopping bleeding)
Utilizing basic medical equipment (such as a defibrillator) to help stabilize patients
Relay information to medical professionals in the hospital
Drive, clean, and restock the emergency transport vehicle with the necessary equipment
Unlock All 1,000+ EMT Questions. Pass Guarantee.
Prep with peace of mind with our 100% pass guarantee.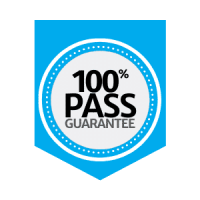 How to be an EMT
Now that you know what an EMT does, we think you're ready to learn how to become an EMT. Again, EMT requirements may vary depending on where you live, but here are some common requirements for an EMT that will usually be asked of you before you can be an EMT.
Use our EMT prep course to ensure you are prepared for your exam.
EMT Requirements
There are a few requirements for an EMT before you can start your journey to become an EMT. Here are some things you have to have before asking how to become an EMT:
High school diploma or equivalent degree (like a GED)
Current CPR certification
If you do not have one of the above, we strongly recommend getting them before trying to move forward in becoming an EMT.
Attending EMT Schooling
It may shock you to find out that schooling is a necessary step in how you get EMT certification. However, the schooling EMTs go through is much shorter than getting a college degree and includes a lot of hands-on training.
All aspiring EMTs will need to do a minimum of 120 to 150 hours of training that usually takes one to two years to complete. Despite needing to take a year or so to complete training, EMT school only lasts around 3 weeks to 8 months.
EMT schools are put on in medical institutions, community colleges, and universities. The best way to learn how to be an EMT is to ask your local fire station or EMS facility where you can attend EMT school as not all of them are accredited.
While at school, prospective EMTs learn the skills they need to be the best first-responder in an emergency situation. Things like tourniquet application, proper CPR administration, and wound treatment are all taught to students wanting to be EMTs.
Some example classes and skills you learn along the way include:
Fundamentals of Emergency Medical Technology: assessing what care a patient needs, stabilizing an ill or injured patient, managing airways, and bandaging a patient
Airway Management: using devices related to reopening and managing an airway, understanding ventilation devices, and monitoring medical equipment
Intro to the EMT Profession: managing medical incidents, understanding medical terminology, communicating in a sense of calm, and documenting patient treatment
EMT Assessment: making primary and secondary patient assessments and getting a patient's history
Hands-On Training
School is a great place to learn the appropriate techniques to stabilize human life in the field but nothing is better at preparing prospective EMTs than hands-on training.
During your 120 to 150 hours of training as an EMT, you will go on several ride-along trips with practicing EMTs. This type of hands-on training puts you right in the middle of emergency situations to help better learn the additional skills ones needs to be an EMT including:
Problem-Solving Skills: the ability to think quickly on your feet to solve newly emerging situations in the field
Interpersonal Skills: to be able to work in a team of EMTs as well as coordinating with other first responders and attending to patients
Listening and Communication Skills: the ability to hear what is troubling a patient and their prior history then being able to accurately relay that information to the proper medical professionals
Physical Strength and Endurance: being able to bend down and lift a patient to move them how they need as well as work long hours on your feet
Testing and Certification
After your schooling and training, you still need to pass some tests to show the National Registry of Emergency Medical Technicians (NREMT) that you have learned enough to become a real practicing EMT. Passing the cognitive and psychomotor tests are how to become a certified EMT.
The cognitive test is a two-hour, online assessment that ranges from 60 to 110 points with the availability to get 70 to 120 possible points. To become certified, you must answer 70% or more of the questions correctly. Question topics include:
Airways, respiration, and ventilation
Cardiology and resuscitation
EMS operations
Medical operations
Obstetrics and gynecology
Trauma
Our EMT test prep is a great way to ensure you are ready for this portion of the exam.
On the other hand, the psychomotor exam has to be taken in person at EMS offices or training institutions. Under examination, prospective EMTs will have to perform basic medical techniques including:
Conducting patient assessments
Managing cardiac arrest symptoms
Immobilizing spines and dislocated joints
Caring for long bone fractures
Controlling or stopping bleeds
Managing shock symptoms
Providing mouth-to-mouth or other forms of ventilation
After passing these two tests, you will be certified through NREMT to begin practicing as an EMT, but the process likely doesn't stop here.
Getting a Job as an EMT
Like any other job, there are steps you will have to take to become employed as an EMT. Certification and testing are important aspects, but you also have to show an employer that you are a great fit as an EMT.
Applying for a Job
If you plan on going to an EMS office there are some important documents you need to take with you if you want to apply for a job:
NREMT certification card
Certificate explaining you passed an EMT course
CPR certification card
Interview
You will likely be interviewed to make sure you are a good fit for the job. Be sure to be as honest as possible. If you have made it this far, you likely have all the skills you need to become an EMT. Find a way to weave those skills and your training into the interview.
Background Check
Many jobs ask you to complete and pass a background check. You may or may not know that the business does a background check on you, so be as honest as possible in the job interview if there is anything that may raise red flags on your background check. Sometimes you will be asked to do the background check yourself through fingerprint scans.
Drug Testing
This may be even more important in the medical field than it is in any other job. As an EMT you will have access to drugs and you will be operating a vehicle that may be traveling at fast speeds, so you need to not have a dependence on any sort of drugs.
You will also be acting quickly and caring for others, so if you cannot do the job without being impaired by drugs or alcohol, you likely won't get the job.
If everything comes back as your prospective employer expects, chances are good that you will get a job as an EMT.
How to Become an EMT FAQs
Is schooling required to become an EMT?
Yes, and no. Someone hoping to become an EMT must have a high school diploma (or GED) and complete an EMT training course that typically lasts 3 weeks to 8 months.
How much do EMTs make?
The average EMT salary is $14.81 and the average yearly salary is $37,630. Salaries will likely vary depending on which state you are in and how much additional training you may have.

Read more about EMT salaries.
How long does it take to become an EMT?
With schooling, on-hand training, and examinations accounted for, it usually takes around one to two years to become certified to be an EMT and start applying for jobs.
Is it difficult to become a certified EMT?
While it will take some legwork, there aren't many prerequisites to becoming an EMT. To get into an EMT school, all you need is a high school diploma (or GED) and CPR certification.

Unlike college, admission into an EMT school isn't based on GPA or standardized test scores. You will have to pass some tests after completing your training course and hands-on training, but they should prepare you for everything you will see on the tests.
Official Resources