Description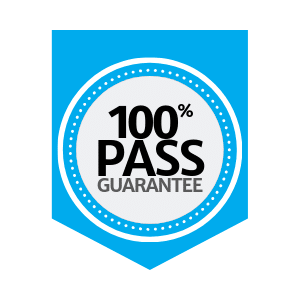 Complete Prep System – Study Guides and Practice Exams
650+ Practice Questions with Explanations
100% Pass Guarantee or Your Money Back (details)
Covers all CDL Exams and Endorsements
Based on official 2019 CDL Manual
Instant Access
Mobile & Tablet Friendly
One-time Payment for Six Months of Unlimited Usage
Unlimited Retakes – Take our practice exams as many times as you'd like.
Features – Details
Interactive Exams with Up-To-Date Questions
Over 650+ questions.
Exam style questions.
All questions have an explanation.
Exams are automatically scored and allow you to track your progress throughout the course.
Relevant Content
Complete CDL course.
Covers Class A, B, and C CDL's and all endorsements
Study guides to learn the material paired with practice exams to drill down the content.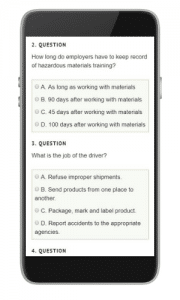 Mobile & Tablet Friendly
All of our course materials work on any device – including smartphones and tablets.
Learn material anywhere, on your own time.
Includes an in-depth study guide + 9 different sections of practice exams over various topics for class A, B, and C CDL's.
CDL General Knowledge
Detailed General Knowledge Outline
Key Terms
General Info about CDL's
Classifications
Endorsements and Restrictions
How to Obtain a CDL
Disqualifications and Other Rules
5 Practice Exams - 150 Total Questions and Explanations
CDL Passenger Transport
Detailed Passenger Transport Outline
Key Terms
General Info about Passenger Transport
Loading
On the Road
Vehicle Inspection and Prohibited Practices
5 Practice Exams - 60 Total Questions and Explanations
CDL Air Brakes
Detailed Air Brakes Outline
Key Terms
General Info about Air Brakes
System Parts
Dual Air Brake System
Using Air Brakes
5 Practice Exams - 75 Total Questions and Explanations
CDL Combination Vehicles
Detailed Combination Vehicles Outline
Key Terms
General Info about Combination Vehicles
Driving Combinations
Combination Vehicle Air Brakes
Anti-Lock Brake Systems
Coupling and Uncoupling
Inspecting Combinations
5 Practice Exams - 60 Total Questions and Explanations
CDL Doubles and Triples
Detailed Doubles and Triples Outline
Key Terms
Pulling Double & Triple Trailers
Coupling and Uncoupling
Inspecting Doubles & Triples
5 Practice Exams - 60 Total Questions and Explanations
CDL Tank Vehicles
Detailed Tank Vehicles Outline
Key Terms
Inspecting Tank Vehicles
Driving Tank Vehicles
Safe Driving Rules
5 Practice Exams – 60 Total Questions and Explanations
CDL Hazardous Materials
Detailed Hazardous Materials Outline
Key Terms
General Info about Hazardous Materials
Hazardous Materials Transportation
Communication
Loading and Unloading
Bulk Packaging and Marking
Driving and Parking
Emergencies
5 Practice Exams – 90 Total Questions and Explanations
CDL School Bus
Detailed School Bus Outline
Key Terms
Danger Zones and Use of Mirrors
Loading and Unloading
Emergency Exit and Evacuation
Railroad and Highway Crossings
Student Management
Anti-Lock Braking System
Special Safety Considerations
5 Practice Exams – 60 Total Questions and Explanations
CDL Pre-Trip Inspection
Detailed Pre-Trip Inspection Outline
Key Terms
All Vehicles
External Inspection
School Bus
Trailer
Coach & Transit Bus
Taking the CDL Inspection Test
5 Practice Exams – 60 Total Questions and Explanations