Choose Between Two Packages (Core or Core + Anatomy & Physiology):
---
See what students say (Reviews) | More features (Learn more) | Compare to Competition
---
Complete HESI A2 Study System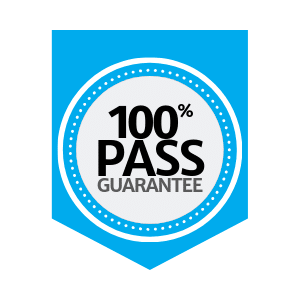 Complete Prep System – Study Guides and Practice Exams
1,000+ Practice Questions with Explanations
100% Pass Guarantee or Your Money Back (details)
Covers all core HESI topics (Math, Grammar, Reading and Vocab)
Anatomy & Physiology Review and Practice Questions
Based on 2020 HESI exam outline
Vocab Flashcards with 250 terms
Instant Access
Mobile & Tablet Friendly
One-time Payment for Six Months of Unlimited Usage (No Subscription!)
Unlimited Retakes – Take our practice exams as many times as you'd like.
The fastest way to learn the material!
Better than the HESI Book!
Twice as many questions.
All questions have explanations.
Exams are automatically scored.
Instant access.
The best HESI A2 Study Program on the market! (Learn More)
What students are saying
I found this very easy to understand and would recommend it to anyone having to prep for this exam
Jennifer Crump
Amazing I have always hated math and tested poorly but after boost prep I love math now!I finally get it! I scored an 85% after just one day of study!!!!
Deloise Prather
The bundle is great loving how they break everything up in sections and make it super easy to understand would 100% recommend it.
jtoribio14
Features
Realistic Exams with the Latest Questions
Over 1,000 up-to-date questions (900 Core, 165 Anatomy).
Questions written in the style of the exam.
All questions have complete explanation/rationales.
Practice exams are timed.
Targeted content
Each course covers all of the topics covered on the HESI exam.
Learn only what's going to be on the test, we won't waste your time.
The fastest way to learn the material!
FlashCard Study Tools
Learn important concepts with our easy to use flashcard tools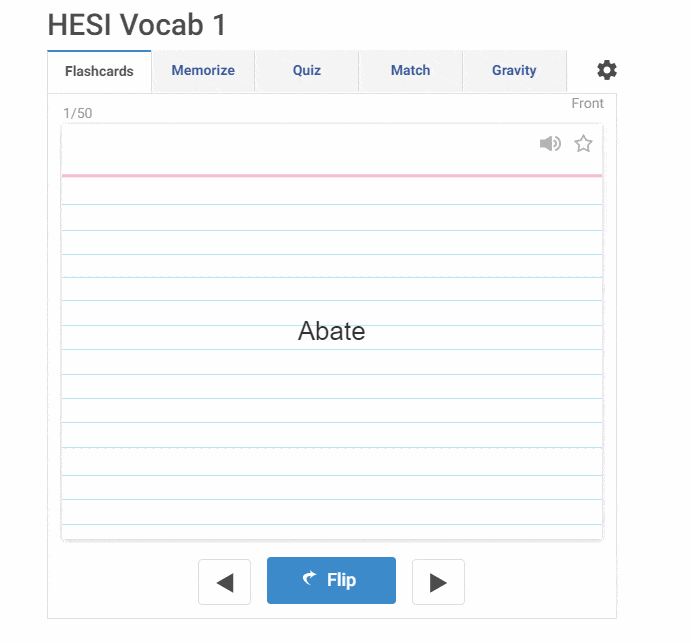 Mobile/Tablet friendly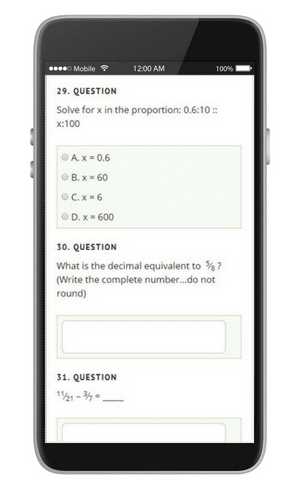 All of our exam prep courses are available on any device – including smartphones and tablets.
Prepare yourself anywhere, anytime.
Compare to Competition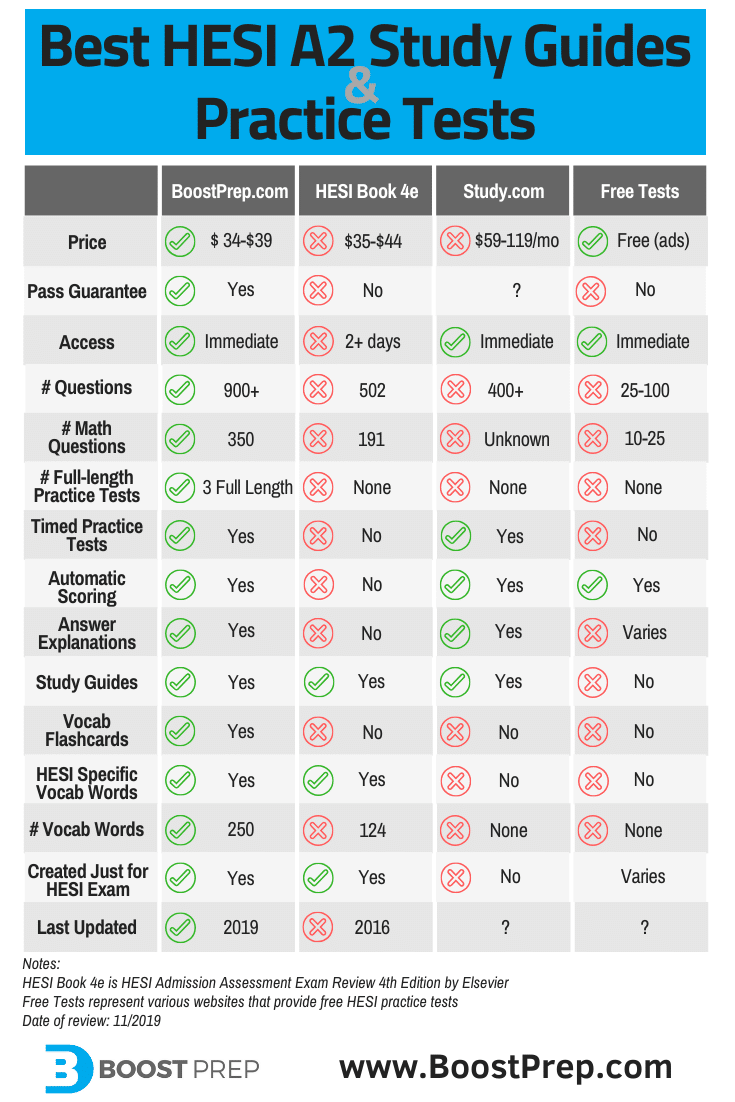 Core + Anatomy Includes All 4 Core Courses + Anatomy & Physiology and Full-length Practice Exams
HESI Math
Detailed Math Outline
Basic Addition Subtraction Multiplication and Division
Order of Operations
Decimals
Fractions
Converting Between Fractions and Decimals
Ratios and Proportions
Units of Measurements and Conversions
Percentages
Roman Numerals
Military and Civilian Time
Basic Algebra
Word Problems
Information to Memorize
and 200 practice questions with full explanations
HESI Grammar
Detailed Grammar Outline
The Parts of Speech
The Parts of a Sentence
Capitalization
Punctuation
Common Grammar Mistakes
What To Avoid
Easily Confused Words
and 4 practice assessments with 50 total questions and full explanations
HESI Vocabulary
Includes
FlashCard study system
250 vocabulary words with definitions and example usage
and 5 practice questions with 50 total questions and full explanations
HESI Reading Comprehension
Detailed Reading Comprehension Outline
Reading Comprehension Introduction
The Main Idea
Supporting Details
Summarizing Passages
Purpose and Tone
Fact Vs. Opinion
Logical Inferences
Word Meanings
General Tips and Strategies
and 5 practice quizzes with 50 total questions and full explanations
HESI Anatomy and Physiology
Detailed Anatomy and Physiology Outline
Anatomy Basics
Cells
Tissues
Skin/Integumentary System
Skeletal System
Muscular System
Nervous System
Endocrine System
Circulatory System
Respiratory System
Digestive System
Urinary System
Reproductive System
and 65 topic specific practice questions with full explanations
Full-length Practice Exams
Features
3 Full-length Exams for Core Subjects (Math, Reading, Vocab, and Grammar)
4 Full-length Exams for Anatomy and Physiology
Exams are complete simulations of actual exam
Questions are written in the HESI exam style
700 total questions
All questions have full explanations/rationales
Exams are timed
Complete scores with feedback, tracking and history
Leaderboards show how your scores compare to other students
Core Only Bundle Includes 4 Core Courses and 3 Full-length Practice Exams
HESI Math
Detailed Math Outline
Basic Addition Subtraction Multiplication and Division
Order of Operations
Decimals
Fractions
Converting Between Fractions and Decimals
Ratios and Proportions
Units of Measurements and Conversions
Percentages
Roman Numerals
Military and Civilian Time
Basic Algebra
Word Problems
Information to Memorize
and 200 practice questions with full explanations
HESI Grammar
Detailed Grammar Outline
The Parts of Speech
The Parts of a Sentence
Capitalization
Punctuation
Common Grammar Mistakes
What To Avoid
Easily Confused Words
and 4 practice assessments with 50 total questions and full explanations
HESI Vocabulary
Includes
FlashCard study system
250 vocabulary words with definitions and example usage
and 5 practice questions with 50 total questions and full explanations
HESI Reading Comprehension
Detailed Reading Comprehension Outline
Reading Comprehension Introduction
The Main Idea
Supporting Details
Summarizing Passages
Purpose and Tone
Fact Vs. Opinion
Logical Inferences
Word Meanings
General Tips and Strategies
and 5 practice quizzes with 50 total questions and full explanations
3 Full-length Practice Exams
Features
Exams are complete simulations of actual exam
Questions are written in the HESI exam style
600 total questions
All questions have full explanations/rationales
Exams are timed
Complete scores with feedback, tracking and history
Leaderboards show how your scores compare to other students